About Gharda Pigments
Gharda Chemicals is manufacturing the High Performance Pigments , as a single-point source of a wide range of pigments developed in-house, to cater for the market demands of Printing Inks,Paints,Plastic and Textile . The pigments developed cover various chemical classes. Pigment division was established in the year 2003 with an objective of leveraging Gharda Chemical's core competence of R&D to develop and commercialize high-performance pigments of world-class quality consistently. We have the manufacturing capacity at Panoli –Gujrat, India. Today we are the leading manufacturer of High-Performance Pigments like PV 23, R122, PV19 and PY 138. We are ISO 9001-2008/14001-2014/18001-2007 certified by SGS and above products are registered for REACH.
We align ourselves with our customers as partners to assist them in achieving their goals and objectives. We have a well-established track record and our services have always met with great customer satisfaction. We offer our HPP (High-Performance Pigments ) at a very competent price and have never been known to compromise on the quality of our product and services. We offer this grades in all the application i.e. Ink ( Waterbase/Solventbase), Plastic (Masterbatch /Fiber), Paint, Coating, and Textile. We have developed a reputation as a premier vendor in a few well known MNC globally. Our product are in compliance with all the regulatory certificates i.e Dioxin,PCB,HMC,ROHS,EN71,APEO etc.
Profile
Innovation has marked the rise of Gharda Chemicals Limited (GCL) from the humble beginning, operating from a small unit in 1960's to one of the most successful and reputed companies in the Chemical Industry today. A strong and vibrant R&D program and expertise in product and process development have enabled GCL to introduce a wide range of products using in-house technology. GCL enjoys a strong, competitive national and international presence.
Gharda Chemicals Limited (GCL), established in 1967, is a Research and Development Company manufacturing high-quality Agrochemicals, High-Performance Pigments, High-Performance Polymers. GCL has five manufacturing units in Dombivli-Mumbai, LoteParshuram-Chiplun, Panoli-Gujarat, Ankaleshwar-Gujarat and Samba-Jammu, with a state of R&D center at Dombivli. A strong and vibrant R&D program and expertise in process development have enabled the company to capitalize on superior technology. The company has won several national and international awards for technical innovation in the chemical industry and has many firsts in the field of dyestuffs, pesticides, veterinary drugs and polymers. The company has a sales turnover of over Rs.1800 Crores.
Gharda's mission has been in developing extremely cost competitive and internationally acceptable quality products delivered to the customer. As Dr.Gharda emphasizes, 'Our goal is – knowledge converted to products to wealth for the good of society'.
Production and R&D
Installed production capacity 800MT/annum.
4 dedicated pigmentation plants is at Panoli, Gujarat.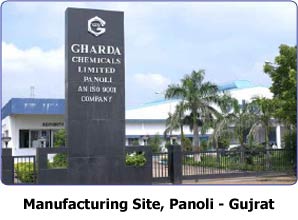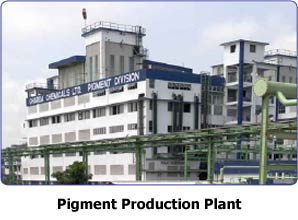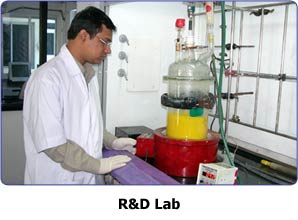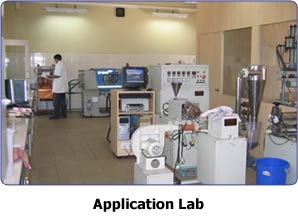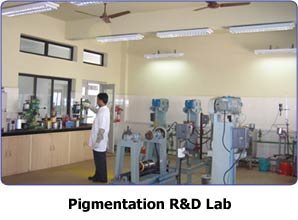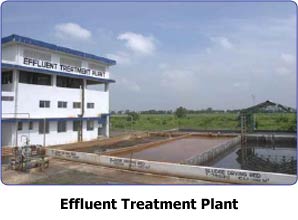 Environmental Policy
We at Gharda Chemicals Limited, Panoli are committed to reduce air and water pollution and thus protect and conserve the environment.
We shall follow all the environment rules, regulations and acts relevant to our business activity. We shall emphasize on recovery, recycle and reuse of raw materials, solvents, water and packing material.
We shall be responsive to the environmental needs of the neighbouring industries and villages.
We shall impart training to all our employees to create environmental awareness amongst them and the impact of their activities on environment.
We are also committed to prevent pollution through our
R & D efforts, towards continual improvement in processes, products and inputs.
Quality Policy
TO ACHIEVE AND ENHANCE CUSTOMER SATISFACTION BY PROVIDING QUALITY PRODUCTS AND SERVICES, IN THE FIELD OF AGRO CHEMICALS, VETERNITY DRUGS, HIGH PERFORMANCE PIGMENTS AND SPECIALITY PLASTICS.
TO MANUFACTURE PRODUCTS TRHOUGH PROCESSES DEVELOPED USING IN-HOUSE RESEARCH AND DEVELOPMENT.
TO EMPLOY QUALIFIED/ SKILLED MANPOWER ANDCONTINUOUSLY TRAIN THEM TO ENHANCE THEIR SKILLS,KNOWLEDGE AND EFFECTIVENESS.
TO CONTINUALLY EVALUATE AND IMPROVE THE EFFECTIVENESS OF QUALITY MANAGEMENT SYSTEM BY ESTABLISHING AND REVIEWING QUALITY OBJECTIVES.
Mission
To Develop, Manufacture and Market
High-Performance Pigments
in a Cost-Effective Way to the
Full Satisfaction of Our Customers.
Dr. K. H. Gharda
Chairman & Managing Director
Dr. Keki Hormusji Gharda (born 25 September 1929) is a prominent Indian chemical engineer, chemist, and entrepreneur. He is the founder, chairman and managing director of Gharda Chemicals Limited, an R&D-based company with business interests in agrochemicals, polymers and is actively pursuing an entry in the market for high-performance pigments. He was honored by the Government of India with the award of Padma Shri in 2016.